With the recent advances in smart phones and tablet devices we  can't give the excuse that we "don't have time" to read the Bible. Or keep a prayer journal. Or encourage others with Scripture.
There are wonderful applications (aka "apps") available, most for free, that allow you to grow spiritually and to minister to others on-the-go…in carpool line, waiting at the grocery store check-out line, in the doctor's office…
I surveyed our Do Not Depart contributors and here are some of our favorite apps for spiritual growth & ministry. I've broken them into the following categories: Bible Study, Scripture Memory, Prayer, Worship, & Encouragement.
Bible Study Apps:

 1. You Version Bible (FREE)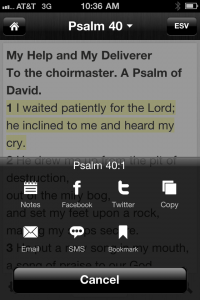 **If you just want a copy of the English Standard Version (ESV) by Crossway Publishing, there is a free app for that specific version, and a paid app for the ESV Study Bible.

 2. Bible.is (FREE) by Faith Comes by Hearing:

   3. Matthew Henry Commentary ($1.99):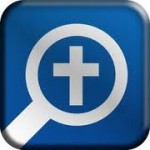 4. Logos (FREE): 
Scripture Memory Apps:

  5. Bible Memory Verses (FREE) by Woody Hays

 6. Fighter Verses ($2.99) by Children Desiring God (John Piper Ministries)
If you want a little more than the Free app mentioned above…this app has:
**Here is one more app to check out for Scripture Memory: Mobilize Faith Bible Memory ($5.99)
Prayer Apps: 

 7. Prayer List ($1.99) 
Worship Apps: 

 8. Pandora (FREE):

 9. One Thousand Gifts (FREE): 
Encouragement Apps: 

 10. Reeder ($2.99):
Those are our top 10 apps for Spiritual Growth. Which ones would you add to the list?
(Affiliate links present-thanks for supporting Do Not Depart!)