(Quick disclosure: Some affiliate links present. See the bottom of the post for full disclosure. Thank you for supporting this ministry!)
It's hard to be little. The world can be a scary place even when all seems well to the adults. And lately even most adults I know do not feel like all is well.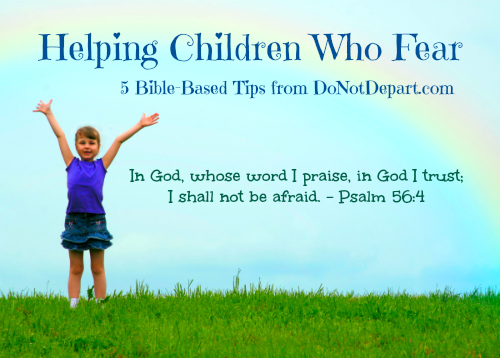 It is so important that we take a Word-based approach when our children fear, because a world-based approach will always disappoint. It would be lying to tell my child that there is nothing to fear. From a purely worldly perspective, my kids' lives are fraught with dangers, many of which we don't even contemplate (driven a car lately?)
But I can tell my child not to fear because of who he is in Christ. Because of Who God is. The power of scripture to combat fear is supernatural. God's Word is the sword of the Spirit!
Here are some of my favorite scriptures on fear…
Verses in the Bible Addressing Fear

"In God, whose word I praise, in God I trust; I shall not be afraid." Psalm 56:4

"When anxiety was great within me, your consolation brought me joy. Psalm 94:19 (niv)

"Peace I leave with you; my peace I give to you. Not as the world gives do I give to you. Let not your hearts be troubled, neither let them be afraid." John 14:27

"I have said these things to you, that in me you may have peace. In the world you will have tribulation. But take heart; I have overcome the world." John 16:33

"…do not be anxious about anything, but in everything by prayer and supplication with thanksgiving let your requests be made known to God. And the peace of God, which surpasses all understanding, will guard your hearts and your minds in Christ Jesus." Philippians 4:6-7

"…for God gave us a spirit not of fear but of power and love and self-control." 2 Timothy 1:7

"…casting all your anxieties on him, because he cares for you." 1 Peter 5:7
Five Word-based ideas for when your child is afraid.
1) Teach children to praise God
Praising God in every circumstance instantly turns our attention off of ourselves and our fears, and onto the only solid and reliable One upon whom we can count. Praise God for Who He is, and for how much He loves us!
"Through (Jesus) then let us continually offer up a sacrifice of praise to God, that is, the fruit of lips that acknowledge his name." Hebrews 13:15
2) Play scripture out loud
When there is a chronic fear hanging heavy in your home, filling the air with scripture can work wonders for restoring peace. Even now I sometimes find myself needing to bathe my mind in scripture as I fall asleep.
Audio bibles are easy to come by thanks to smart phones (both for iPhone and android.) If you don't have a smart phone, you can buy an [amazon_link id="193104743X" target="_blank" ]audio bible on CD[/amazon_link] or [amazon_link id="143350295X" target="_blank" ]on mp3[/amazon_link].
"Peace I leave with you; my peace I give to you. Not as the world gives do I give to you. Let not your hearts be troubled, neither let them be afraid." John 14:27
3) Help children memorize scriptures
The bible directs us to teach our children the scriptures!
"And these words that I command you today shall be on your heart. You shall teach them diligently to your children, and shall talk of them when you sit in your house, and when you walk by the way, and when you lie down, and when you rise." Deuteronomy 6:6-7
You can teach your children some of the specific verses related to fear listed above, but even having basic verses memorized will be a powerful tool in their arsenal against fear! Our summer Hide His Word challenge will be reviewing basic scriptures for believers. If you or your children have never memorized before, why not sign up and start hiding His Word in your heart this summer?
It's important to understand that the Word of God is the only offensive piece of our spiritual armor, the rest is defensive. The Word is even called the sword of the Spirit. Our children need to know and be ready to wield this holy sword!
"For the word of God is living and active, sharper than any two-edged sword, piercing to the division of soul and of spirit, of joints and of marrow, and discerning the thoughts and intentions of the heart." Hebrews 4:12
4) Post scriptures around the house
The bathroom mirror and the kitchen windowsill seem to be our two favorite places to post scripture. We spend a lot of time at sinks, apparently! You can put up verses applicable to your child's current struggle, or a general verse. Try taping printed scripture to the mirror, or for fun, write the verse directly on the mirror with a dry-erase or wet-erase marker!
There are also many beautiful, scripture-based home decorations available.
"You shall write them on the doorposts of your house and on your gates." Deuteronomy 6:9
5) Sing scripture songs that deal with fear and courage
Music makes such an impact on kids. On adults too! More than once a scripture has wafted in song out of the car speaker right into this weary mama's heart and given me strength!
Oh come, let us sing to the Lord; let us make a joyful noise to the rock of our salvation! Psalm 95:1
The [amazon_link id="B002CLBJXW" target="_blank" ]Seeds Family Worship[/amazon_link] songs are great. There is lots of other recorded scripture music for kids available. And many old hymns are scripturally based.
If you don't know a song for the verse you want your children to memorize, use a familiar kids' tune! Julie explains how in "Truth for Kids to Tunes We Know"
However you go about it, helping your kids stay in God's Word will combat fears of all sizes!
Have you had to deal with fear in a child? How did you help your child focus on the sovereign God who loves her? Share in the comments!
Our "Let the Children Come" link-up is still open! Do you have a great idea to help kids stay in the Word? Please share it here!
Disclosure: Some affiliate links are present. If you click on those links and then purchase the item, we will receive a small commission. Regardless, we only share products we personally support, love, and think you would benefit from, too. Thank you in advance for supporting this ministry!