With the recent advances in smart phones and tablet devices we can't give the excuse that we "don't have time" to read the Bible. Or keep a prayer journal. Or encourage others with Scripture.
There are wonderful applications (aka "apps") available, most for free, that allow you to grow spiritually and to minister to others on-the-go…in carpool line, waiting at the grocery store check-out line, in the doctor's office…
I surveyed our Do Not Depart contributors and here are some of our favorite apps for spiritual growth & ministry. I've broken them into the following categories: Bible Study, Scripture Memory, Prayer, Worship, & Encouragement.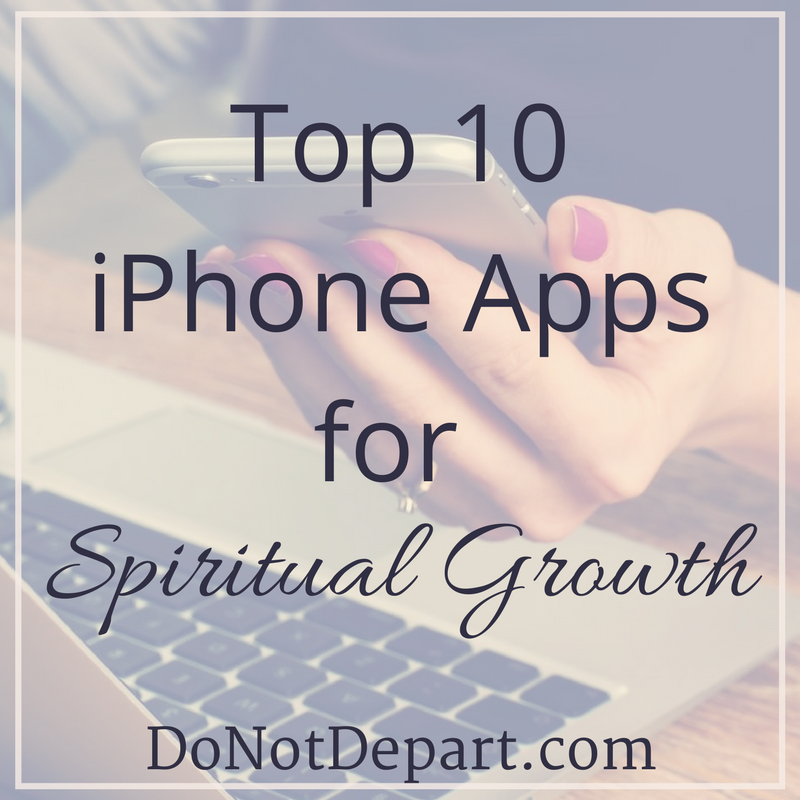 Bible Study Apps:

 1. You Version Bible (FREE)
This app is available on the iPhone, iPad, Android, Blackberry, Palm.
Over 100 different versions of the Bible in many different languages (I've used the Swahili version to share the Psalm 4 with a Muslim refugee from Somalia!)
Reading plans available.
Type any word or phrase for quick search of Scriptures (concordance).
Encourage others through sharing verses. Highlight a verse then with one button chose one of the following options: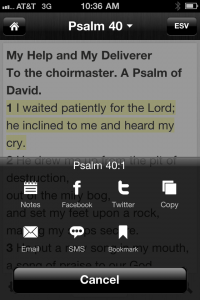 **If you just want a copy of the English Standard Version (ESV) by Crossway Publishing, there is a free app for that specific version, and a paid app for the ESV Study Bible.

 2. Bible.is (FREE) by Faith Comes by Hearing:
The most translations in the world.
600+ languages including dramatized Audio
The JESUS Film Project too…New Testament Scripture comes to life.
They even have an app for kids!

   3. Matthew Henry Commentary ($1.99): 
What a deal!! "The complete six volume set (over 5,850 pages) of trusted verse-by-verse commentary of the entire holy bible with over 64,000 scripture references at your finger tips – fast and easy to use."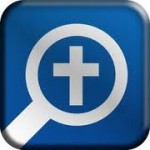 4. Logos (FREE): 
This app is similar to the YouVersion app but it differs in that you can connect it with a Logos account. Therefore you can make notes & highlight verses (80 different colors & symbols available) that are saved across devices (your phone & computer).
Pull up any verse and compare it across any 5 different versions…on one screen.
"The Passage Guide allows you to enter a verse and get a detailed report that includes relevant commentaries, cross references, literary typing, and media resources."
Highlight a word in a verse to look up the Greek/Hebrew for further study.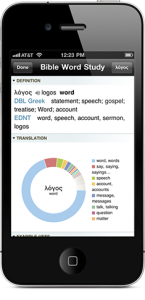 Scripture Memory Apps:

  5. Bible Memory Verses (FREE) by Woody Hays
1,000 Bible verses to chose from to memorize in 4 different versions of the Bible (ESV, KJV, NASB, NIV).
"A word removal tool, flashcard tool, audio record & playback functions, search function and the ability for users to add their own verses."
Includes quizzes to allow users to test their knowledge.

 6. Fighter Verses ($2.99) by Children Desiring God (John Piper Ministries)
If you want a little more than the Free app mentioned above…this app has:
Has 520 verses preloaded in 6 different translations of the Bible (ESV, NIV, NASB, HCSB, KJV, LBLA (Spanish)).
Four unique quizzes: Quick Blanks, Word Bank, Typing, & Reference (match the reference to text).
Display the verse you are memorizing on your Lock screen so it pulls up every time you turn on your phone.
Set a schedule for weekly memory and get daily or weekly reminders.
Songs available to help memorize.
**Here is one more app to check out for Scripture Memory: Mobilize Faith Bible Memory ($5.99)
Prayer Apps: 

 7. Echo Prayer Manager (FREE) 
Keeps track of prayer requests
Can send reminders
Set timer to pray for set period
Record dates requests were made and answered. Review God's faithfulness as you scroll through answered prayers!
Email prayers to friends to encourage them.
Worship Apps: 

 8. Pandora (FREE):
This personalized radio station is wonderful for helping you worship during your quiet time, re-focus on God while cooking dinner, or praise His goodness while folding laundry.
Type in an artist's name, style of music or song to set up a radio station. The app will then choose music to fit into that station.
Some of my favorite stations are: Hillsong, Christa Wells, Chris Tomlin, Bethany Dillon, Aaron Shust, and Contemporary Christian. Share in the comments what stations you love!
9. Spotify (FREE): 
Like Pandora, this app has radio stations that you can search for by genre, but is best known for its playlist feature.
Find songs you like and save them to your own customized playlist.
If you don't feel up to creating your own playlist, feel free to follow us! Type in "donotdepart" into the search bar and click on playlists. You can also find and follow others by searching with terms like "Morning Worship" or "Christian Praise", and so on.
Encouragement Apps: 

 10. Reeder ($4.99):
There are so many wonderful blogs with encouraging content and truth. To keep track of your favorites, use Google Reader and sync it with this app.
What are some of your favorite blogs for solid Biblical teaching and encouragement?
Those are our top 10 apps for Spiritual Growth. Which ones would you add to the list?